---
---
Location Guide
NIC Assam State Centre is located at Assam Sachivalaya complex of the state capital Dispur. It is near Ganeshguri Chariali on the south of the G.S.Road. Since the office is located at a high-security zone, it is advised that gate-pass may be obtained in advance before visiting the centre. Gate-passes can be issued to visitors in advance at the entry point if requested. Requests can be made over telephone or in writing stating the visitor's name, designation, whom to contact, purpose, date and time, and any articles that is be carried in person.

Telephone: 0361-2260254 / 2261964, Fax: 0361-2260254, Email: sio-asm@hub.nic.in

The NIC Assam Training Centre is located at Jayanagar Chariali, Tripura Road, opposite to the Agile Hospital. It can be approached from Beltola Tiniali, Sixth Mile, Khanapara and from the National Highway 37.

The following sketch map shows the details of the locations.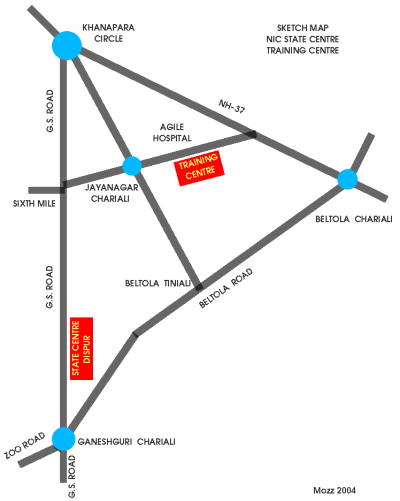 Last Modified: Jan 10, 2018
---